Award-winning, spectacular setting
The Award – winning, beautiful Gardens cover a 4 acre site. They include an Orchard (containing a children's play area), Kitchen gardens, Woodland and Formal Garden with Alpine borders, a Japanese Garden and Pond. There are Pagodas, benches and Swing seats to sit in and many spots to pause at and admire the variety and uniqueness of the plants and their magical setting. There are many different sites, sounds and aromas to enjoy. Due to the abundance and variety of trees present and the habitat-conscious planting, the wildlife is here in strength. Watch the chicks learn to fly (15 different species), listen to hear the rabbit's thump of warning when danger is around, or try and catch the late summer spectacle of popping-Euphorbia's and watch nature's firework in action. The gardens have an element of spiritual retreat about them and will becalm any stressed or anxious visitor. It is a photographer's paradise of both the plants, trees, landscape and wildlife.
All-Year-Round Interest
The clever planting gives almost all-year round interest and colour. The Spring brings Daffodils and a snowdrop field (with some rare species) which is a welcoming sight. Summer brings a constant roll of colour through the borders, complimented with many varied greens from the expertly planted foliage. The romantic Handkerchief Tree now flowers it's large white petals in June but is so cruel in it's brevity. The Tulip Tree is a marvel with it's apricot Tulips sat on it's branches. The perfect spot for a proposal or even a bride. Our local Chelsea- award winning Agapanthus bob their blue by the side of the house, happily sat in their pots. As summer turns into Autumn and the kitchen garden and Orchard goes into overdrive; the bursts of Autumn shades keep coming – giving each tree in turn, it's moment of rust-coloured glory.
Abundance of Wildlife
For the keen wildlife or bird observer, this is an amazing haven. Every species from Grass Snake to Buzzard are present and there is always something interesting to be found if you just stand still for 5 minutes. The veritable Spaghetti Junction woven by the Swallows, Swifts and House Martins as they dive and soar throughout the summer is a sight to be seen.
Group Visits
Customers who book the accommodation can use the gardens, Group visits to the Gardens are welcome (must be pre-booked) and Opening Times and prices for smaller groups/individuals are noted above.
Children and the Garden
We have a trampoline and are currently creating a magical tree house for children which they will be able to enjoy. The Woodland, Japanese and Alpine Gardens are perfect for hide and seek and exploring the Neolithic-age Gunnera's. We also have a secret magical corner that the children have to find themselves and let their imagination run riot. There are plenty of trees to climb just outside of the main gardens. Educational visits are welcome for children to learn about the plants, eco-system, organic gardening and produce-growing.
Produce to purchase
Fresh produce from the kitchen gardens can be purchased on request and there is a substantial menu of items available to purchase that have been made on site, from the produce. This includes items such as rhubarb crumble, apple and cinnamon cake, blackberry and apple jam, spiced apple chutney and elderflower cordial.
Wheelchair and Pushchair Access
As the garden is created on a slope, there are a number of terraces, cobbles, hardcore, bark, steps and slopes to navigate. Wheelchair users will need to be accompanied, pushchair users are advised to carry the baby, dry storage of pushchairs can be provided. We will endeavour to help any accompanied wheelchair bound visitors have as much access to the gardens as we can, but will need to have prior notice in order to ensure facilities are in place. No wheelchairs or pushchairs are allowed on the lawns. Garden visitors will be entering the premises at their own risk and we accept no liability for any accidents. It is important to note that the cobbles and Derbyshire flagstones are uneven by definition and could be slippery when wet. Regular jet-washing of the site is carried out to make surfaces lichen-free and as safe as possible for our customers.
| Opening times | |
| --- | --- |
| 2018 opening times: Please call for dates. | 10.00am – 2:00pm (departure by 3:00pm) |
| Autumn Magic | October – mid November |
| Spring Heaven* | mid March – end of May |
| Summer Glory* | June – September |
| Costs | |
| --- | --- |
| Individual | £5.00 per head |
| Groups of 10+ | £5.00 per head |
*Please check updates on website as Gardens will be closed during Weddings, high winds and whilst any building work/maintenance to the property is carried out.
Customers are politely requested to only park in parking bays or designated field, which will be signposted and never to park on the lawns/grass or on the main driveways.
Dogs
Dogs are not allowed with Garden Visitors.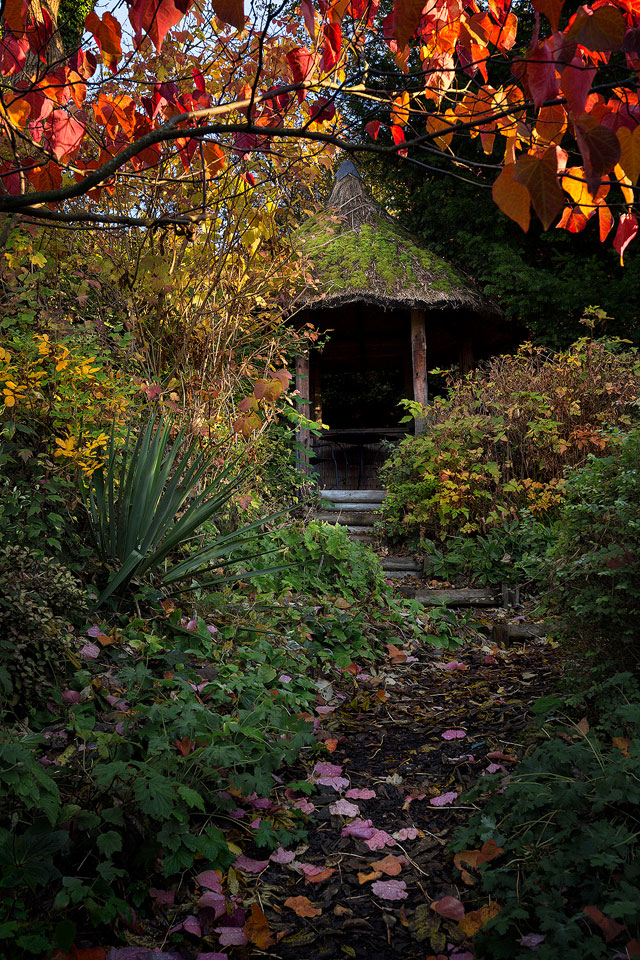 ---
---
Produce for sale